Lagos - There was pandemonium at Omole bus stop on Oba Ogunnusi Road in the Ojodu area of Lagos on Tuesday after a traffic warden, Sunday Charles, engaged in fisticuffs with a motorist, identified as Kingsley.
It was learnt that Kingsley, who was stopped by a team of traffic officers at the junction, was allegedly beaten up by Traffic Man Charles for refusing to part with N50.
The motorist lost three front teeth during the brawl...

According to Punch, Kingsley and some people in the bus manhandled Charles and threatened to drag him to the Ojodu Police Division for the assault on the driver, before some pedestrians advised them against reporting the incident.

At about 11.30am, Charles, who was with three female officers and four officials of LASTMA, had stopped Kingsley's vehicle at the junction. The traffic warden allegedly demanded N50 from the motorist before he could let him go.

It was learnt that trouble, however, started when Kingsley claimed that he had earlier given N50 to the warden, adding that he would not give him another until evening.

Charles, who allegedly insisted on collecting the money, was said to have dragged Kingsley down from the vehicle and punched him in the face, during which the motorist's three teeth fell off.

Speaking with PUNCH, Kingsley said he refused to allow Charles to go because he had injured him.
The injured man said, "I am a commercial driver. The warden stopped me about 8am and I gave him N50. So, I was surprised when he asked me again.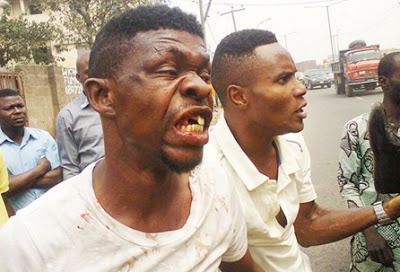 "I was going towards Agidingbi Road when he stopped me. He demanded another N50. I refused, saying he should wait till evening. He dragged me from the bus and started punching him on my face.
"My mouth started bleeding. I realised three of my front teeth had fallen off. So, I grabbed his uniform. People bundled him inside my vehicle and said I should take him to the police station.
"His colleagues and LASTMA officials stood away during the altercation because he did not listen to them. I suspect the warden was drunk because of the way he dragged me from my vehicle."
A pedestrian, Abiodun Dada, said other traffic wardens and LASTMA officials, who were embarrassed by Charles' action, later calmed down enraged motorists not to protest against the incident.
But the Police Public Relations Officer, Dolapo Badmos, claimed that it was the motorist and his condoctor who assaulted the traffic warden, adding that Charles' uniform was torn during the attack.
She said, "The traffic warden was beaten by a commercial bus driver and his conductor who are still at large. His service uniform was torn to pieces. He was rescued by a team of policemen deployed in the scene. The case will be dealt with decisively."