In spite of an intimidating 20 goals in the English Championship that fetched Watford's promotion to the English Premier League, not many would bet on Nigerian striker, Odion Ighalo, to be in contention for the premiership hot shot after Boxing Day.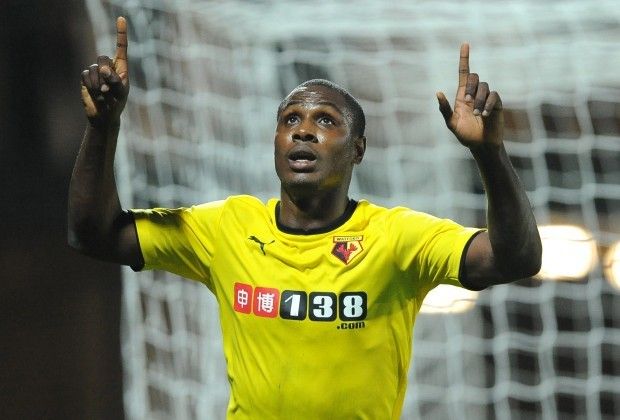 But that is the story of the former Udinese of Italy striker as he has proven doubters wrong and no doubt the face of Nigerian players in the English Premiership
Odion Ighalo and his Watford side are fast becoming the story of the season after defying all odds from being an expected relegation strugglers to Europe contenders and the striker has been enjoying encomiums week-in, week-out as he has made goals scoring a habit. "We understand the way we play and after a couple of months in the Premier League, we will understand how the other teams play. I believe we can stay there. It won't be easy but I believe we can compete," he said before the kickoff of the premiership.
After Boxing Day's encounter between Chelsea and Watford at Stamford Bridge, Super Eagles midfielder, Mikel Obi, has nothing but praise for his national team mate.

During the match, Ighalo scored his 13th goal of the season, to set a new record of becoming the first Watford and indeed Nigerian player to score in five successive Premiership games.
"I am not surprised Odion Ighalo is doing what he is doing. I have chatted with him and played with him in the national team and I can see the talent he has, as even before I have the ball in those games he is already making his run. He is a player who likes to exploit the space behind the defence and is a good finisher around the box. He is someone we need to watch out for," Mikel said after Chelsea's 2-2 draw with Watford.
Also, Newcastle United and England legend, Alan Shearer, has praised Ighalo for carrying his club Watford in the EPL after his brace against Liverpool, "Watford too strong, too quick and too good for Liverpool. Ighalo is superb," Shearer tweeted.

As a boy, Odion Ighalo and his Olodi Warriors team-mates would hit the deck when they heard gun fire during training. The bullets didn't know the difference between the young footballers and the drug dealers selling their narcotics on a corner of the pitch, which the police were targeting. Growing up in the Ajegunle ghetto, in the heart of Lagos, life can be like that.
The pitch where he would train and play matches as a child is called the 'Maracana' by locals, in the Tolu area of the community. It is one of the most popular places in Ajegunle and has become known as the place that turns filth into gold.
Some houses are even built on top of great mounds. But out of its depths have emerged footballers who would go on to make waves in Europe. Ighalo is one of them.

His mother, Martina, worked day and night selling water and soft drinks to save up for his first pair of boots against his father, Paul's wish, who wanted his son to go to school and study – so his parents would argue. Ighalo however chose a pair of adidas Copa Mundials, displaying a touch of class, even back then, which he has carried into the Premier League this season.
Goal-scoring has been Ighalo's primary function as his 28 league strikes in 2015 are greater than anyone in English football's top four divisions. In the top five European leagues, he is just behind Cristiano Ronaldo (35), Lionel Messi (33), Pierre-Emerick Aubameyang (29) and alongside Luis Suarez in joint-fourth.

Despite placed seventh on the table at a stage in the league and just a point behind fourth-placed Tottenham Hotspur with place in Europe in sight, Coach Quique Sanchez Flores insists Watford's top priority for the season remains Premier League survival.
Asked if he has changed his original aim of survival, Flores said: "No. It would be a very big mistake, not clever, no. We have to stick to the ideas of the club, which are very clever. We are just thinking about growing Watford. We have been strong in the past few years, but we need to establish ourselves in the Premier League. This is what the fans need, and Watford needs. To lose the perspective would be a very, very bad thing for us."
However, Ighalo's form could see the 26-year-old targeted by bigger clubs in the January transfer window, but Flores is confident the striker will see out the season with Watford.

"He is very clever, he chose five months ago the option to come here because he imagined something special for him," said Flores. "He is clever; he knows the best option for him. I hope and believe he will finish the season with Watford. After that who knows."
Ighalo is already a £12m target fo Atletico Madrid as his impressive start to the campaign caught the eye of Atletico scouts.
Atletico are looking for a new striker this summer as Jackson Martinez has been a huge flop since his £25m move from Porto in the summer and has even been linked with a loan move to Tottenham and Chelsea with Atletico keen to offload the 29-year-old.
The Spanish club has a good relationship with Udinese who are also owned by the Pozzo family who have bankrolled Watford's remarkable rise and Atletico are confident that they could land Ighalo after making enquiries to his representatives and they are hopeful of doing a £12m deal in the summer.

Watford will be determined not to sell as Ighalo has formed a lethal partnership with Troy Deeney.
In the same vein, Roma are also said to be monitoring Ighalo.
The 26-year-old is the second-highest top-scorer in the League with 14 goals behind Jamie Vardy on 15.
However, Odion is yet to establish himself in his country's colours the way he is doing with Watford. He was indeed left out by Super Eagles Chief Coach Sunday Oliseh, in his first assignment as the national team's manager, in a 2017 Africa Cup of Nations qualifier against Tanzania in Dar es Salam, which though attracted some eyebrows, considering the striker's performance for his club. He however got his chance against Cameroun and he took it.

"I'm happy to get a goal but most important the win has doused a lot of tension and you can see from the way the team celebrated every goal shows that with peace in camp, we can conquer. There's still more work to be done to sustain the tempo which coach Sunday Oliseh demands from the team. We have more work to do because the coach's style involves you staying mentally alert for quick reactions. We know what is at stake and I believe everybody wants to be at the World Cup so that's a motivation on its own," Ighalo said.
When Ighalo came off the bench to earn for the Hornets a 2-2 draw at Goodison Park in their first match back in the Premier League back in August, Oliseh was quick to say how much he was impressed with the striker's performance.

"I am thrilled by Ighalo's goal. It was classy and I am happy he made his presence felt when he came in as a late second half substitute. That kind of performance is what I expect from my players week in week out. With that kind of outing, he will either start the next game or be used as an impact substitute. I want to see all Super Eagles players in action every week and not as bench warmers," Oliseh said.
With 14 goals in the kitty already with the league just midway, Odion surely looks good to surpass former Nigerian international, Yakubu Aiyegbeni's record of 16 goals while playing for Portsmouth in the 2003/2004 season.

The closest before now was the 15 goals scored by Osaze Odemwingie for West Brom in the 2010/2011 season.
Ighalo was born on June 16, 1989 in Lagos. He played for Prime FC of Oshogbo and Julius Berger of Lagos from where he was discovered by FIFA agent, Marcelo Houseman, who recommended him to Atta Aneke, and was subsequently taken on trial by Norway's Lyn Football.

On July 30, 2008 Ighalo signed for Udinese in Italy and agreed to a five-year contract. He was later loaned to Granada FC in the 2009 summer, as part of the partnership agreement between Udinese and the Spaniards. He scored 17 times in his first year and five in the second, as both seasons ended in promotion; this was interspersed with a brief loan stint back in Italy with A.C. Cesena.
Ighalo sends a chunk of his wages back to family in Nigeria and charities who help kids, schools and widows. He plans to open up an orphanage this year.

With all this no doubt Idion Ighalo is certainly the new face of Nigerian football after the likes of Okocha, Kanu etc.